The Go Dive GOLD Advanced Open Water Diver course is an entirely boat diving course (no lugging equipment into and out of shore dives). The course is designed to help you increase your confidence and build your scuba skills so you can become more comfortable in the water. This is a great way to get more dives under your belt while continuing to learn under the supervision of your PADI Instructor. This course builds on what you've learned and develops new capabilities by introducing you to new activities and new ways to have fun scuba diving.
You'll hone your skills by completing five adventure dives that introduce you to two core and three elective dives on Go Dive's boat diving in the Moreton Bay Marine Park:
Triple Dive Day aboard Go Dive's boat - Dive Quest
Underwater Navigation - Core Skills Dive - Ever wondered how an experienced diver finds their way around a dive site so easily? On the Underwater Navigation dive you will learn some of the secrets of navigation, including compass use and using the natural environment to assist you. You will never be lost again!!
Delayed Surface Marker Buoy (DSMB) – Learn about use of DSMBs, including inflating and swimming underwater towing your inflated DSMB at the surface, as well as surfacing and retrieving DSMBs. This adventure dive will also credit you with Dive 1 of the DSMB Course should you later elect to gain a DSMB specialist certification.
Dependent on conditions – either a Drift Dive or Peak Performance Buoyancy Adventure Dive

Drift Dive - Enjoy a comfortable, easy relaxed dive, avoiding long swims. Scuba dive alongside amazing marine life which spends their days drifting in the currents. Our local area sometimes is affected by tides and currents - this is a great way of experiencing the correct manner to dive in these conditions.
Peak Performance Buoyancy - Master your buoyancy and glide effortlessly, conserve air and ascend, descend, or hover almost as if by thought. Mastering neutral buoyancy is one of the most difficult, but most important skills a scuba diver can achieve.
Double Dive Day aboard Go Dive's boat - Dive Quest
Deep Dive - Core Skills Dive - Experience the excitement and wonder of what lies below 18 metres. We will dive to a depth of more than 18m but no more than 30m and undertake some observations and activities at depth. Once certified, you with then be able to explore previously unseen deeper sights to 30 metres.
Search and Recovery Dive – Learn how to conductsearches with and without reel lines; and how to recover heavy items from the bottom using a lift bag. This adventure dive will also credit you with Dive 1 of the Search and Recovery Course should you later elect to gain a Search and Recovery Diver certification.
Optional Upgrade:
Advanced Open Water Course with Nitrox Course Piggyback - For just $250 extra, Why not complete the Nitrox course while doing your Advanced Course and do all five of your course dives on Nitrox. You will then not only be Advanced certified but be Nitrox certified as well.
Prerequisites
To take this course, you must be:
A PADI Open Water Diver (or qualifying certification from another training organization)
15 years old (12 for Junior Advanced Open Water Diver)
What You Learn
The knowledge and skills you get in the Advanced Open Water Diver course vary with your interest and the adventures you have, but include:
Practical aspects of deep diving.
Physiological effects of deeper scuba diving.
Effective use of your underwater compass.
How to navigate using kick-cycles, visual landmarks and time.
Search and recovery skills.
When and how to use a DSMB competently when not on the surface.
Dependent on conditions – how to drift dive, or techniques and practice to improve your underwater buoyancy.
The Scuba Gear You Use
You use all the basic scuba gear including your underwater compass. Additionally you will be introduced to other specialty equipment dependent on the adventure dive being undertaken. You will need to have a Delayed Surface Marker Buoy (capable of being attached to a finger reel) and finger reel with 30m of line; along with a torch and slate. You may work with dive floats and/or various weight carrying options.
The Learning Materials You Need
This course is done with PADI Adventures in Diving manual. Once signed up you will be given your course materials and your adventure starts. Complete the modules before the dives and you are set for the most awesome adventure.
Your Next Adventure
For more information about this or other PADI courses have a chat with one of the GO DIVE BRISBANE Team members.
Related Products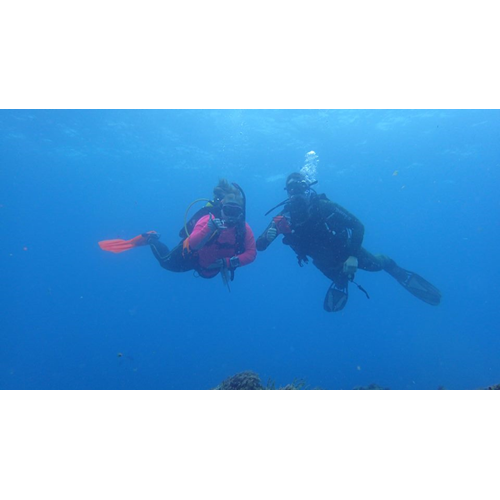 Advanced Open Water Diver Course - Private Personalised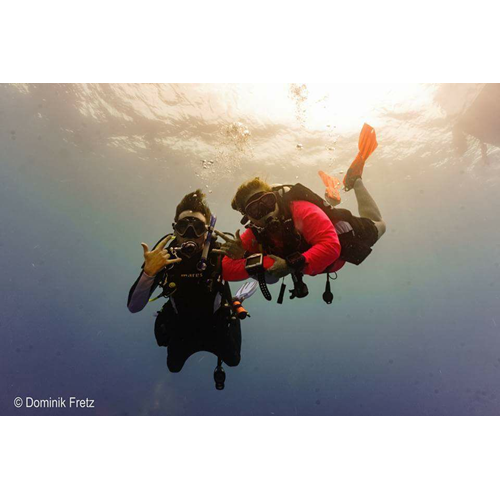 Advanced Open Water Diver Course - Private Personalised - Buddy Pair